Best Storage Sheds to Buy in 2018
Whether you're living in small condo in the city or have a sprawling yard you most likely need storage for something – the question is: for what?
A home storage shed can help provide extra space in your garage or basement and allow you to get the most out of them. However, there are a variety of storage sheds that vary in size, style, quality and more. Your use and purpose of the storage shed will play a major role in determining the type of shed you should purchase.
Bike Storage
The Yardstash IV
The Yardstash IV is an economical option ($174 on Amazon) that provides owners with a small semi-secure space to put bulky items that can take up unnecessary space in the garage. For example, imagine not having to squeeze by your bike as you're exiting your car every day. The tarp-like material will also protect your bike (or anything else) from rain which can eventually lead to rust.
Full Storage Shed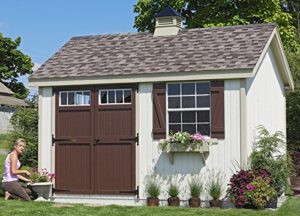 DIY Colonial Kit Shed
The DIY Colonial Kit shed is a beautiful, but expensive ($6,000+) storage shed that adds character and functionality to dead space in your yard. You can store gardening tools, power equipment, seasonal furniture, and more in the 12' x 24' space. This shed is fully secure and secure and weather proofed to protect almost anything you put inside. You'll rest easy knowing your valuables are secure – and out of the way!
Plastic Storage Shed or Container
The plastic storage shed, measuring 18 cubic feet is great for storing outdoor furniture cushions and accessories. Expensive outdoor furniture can still get ruined by rain, pollen, and other elemental factors so its best to protect them as much as you can. The plastic container can easily nestle into a corner of your outdoor space and blend in.
Outdoor storage sheds are an effective way to create additional space in your garage or basement. However, they do not satisfy all of your storage needs. There is still a plethora of items you'd like to store for a longer period of time and it may make more sense to get them off-site to avoid cluttering your home (or your storage shed!). OnDemand Storage provides pickup, secure self-storage, and delivery of stored items. You'll be able to access your storage unit 24/7 from any computing device and request one or all of your items back at any time!
Call 1.855.216.6617 or Email info@ondemandstorage.com